GUNS AND ROSES TICKETS & $100 CASH
COMING TO WAR MEMORIAL STADIUM ON SATURDAY, AUGUST 5TH, IT'S GUNS N ROSES. AND YOU COULD WIN A PAIR OF TICKETS TO SEE THEM LIVE IN CONCERT, PLUS A HUNDRED BUCKS TO HELP GET YOU THERE. ALL YOU HAVE TO DO IS MAKE AND POST A VIDEO TO THE TWIN LAKES RADIO FACEBOOK PAGE ( https://www.facebook.com/TwinLakesRadio/ ) OF YOU OR YOU AND FRIENDS DOING YOUR BEST COVER OR LIP SINC OF YOUR FAVORITE GUNS N ROSES SONG. THE VIDEO THAT HAS THE MOST LIKES BY 11AM JULY 14TH WILL BE OUR WINNER. ALL VIDEOS WITH VULGAR LANGUAGE OR ACTIONS WILL BE IMMEDIATELY DISQUALIFIED. YOUR CHANCE TO WIN BROUGHT TO YOU BY:
LAKE COUNTRY COOKHOUSE AT THE RIVER ROCK INN
AMERICA'S CAR MART
JOE'S TRUE VALUE HARDWARE
SANDRA D'S GROCERY AND FUEL STOP
ASUMH –COMMUNITY EDUCATION
GOOD IMPRESSIONS PRINTING
ORSCHELN FARM AND HOME IN MOUNTAIN HOME AND FLIPPING
101 GROCERY AND BAIT
NORTH ARKANSAS ELECTRIC COOPERATIVE, A TOUCHSTONE ENERGY COOPERATIVE
GONCE'S RV PARK AND DÉCOR GIFT SHOP
MOWER WAREHOUSE
BOBBIE SUE'S RESTAURANT
RENEE BOTTS AT BAILEY INSURANCE
BRIAN HAAS CPA
STUDIO WEST SALON AND BOUTIQUE
ARKANSAS INTEGRITY INSURANCE
ANGIE'S CLOSET
HOPPER ENVIRONMENTAL SERVICES
SKIPPER'S RESTAURANT
ALL PET AND EQUINE SUPPLY
FOUT BOAT DOCK
DANNY PORTER WITH CENTURY 21 LEMAC REALTY
QUARRY MARINA
CLASSY DESIGNS
UPLOAD YOUR VIDEO TODAY OF YOUR BEST COVER OR LIP SINC TO GUNS N ROSES AND YOU COULD SEE GUNS N ROSES LIVE, FROM THE STATION MAKING YOU A WINNER.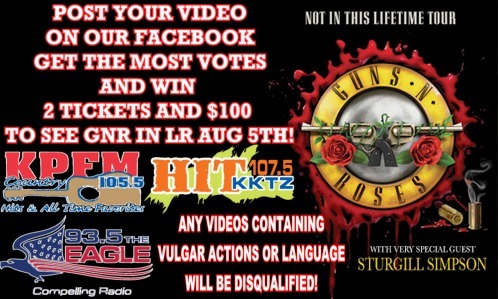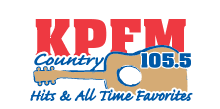 KPFM Country 105.5 FM is a 50,000 watt station playing country music since 1985. A tradition beginning with KPFM debuting as the sole country FM station in the Twin Lakes Area in 1985.
...more>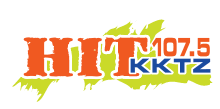 KKTZ Hit 107.5 FM is a 100,000 watt station playing Hot A/C. Reaching an 18-34 age group. Hit 107.5 plays the best mix of music from the 90s through today. The Big Morning Show with Bob Van Haaren (DJ Peace)
...more>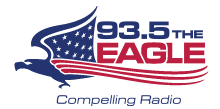 KOMT The Eagle 93.5 is a 50,000 watt conservative & Christian talk radio station, featuring Hugh Hewitt, Mike Gallagher, Dennis Prager, Michael Medved, Mark Levin, Eric Metaxas and Coast to Coast AM
...more>


Latest News from Baxter Bulletin Newspaper
- Serving Mountain Home/Baxter County